I swore up and down that this would not be a trend I would follow. What woman would want to lose her beautiful shape in a baggy, shapeless jean?? Have you seen asses on women that wear those jeans? I didn't think so because their boyfriend jeans ate it!! Not only that, the whole "destruction process" that jean makers use on jeans annoys me greatly. Why people? Why are you paying good money for jeans that are ripped and torn? Shouldn't you be the one to do that on your own? As most of us know, when a jean tears, the holes become bigger and bigger with each wash and wear. It never stops, and then you ultimately end up with a hole exposing one side of your ass cheek.
I'm 5'6" and 115 lbs. I'm in my mid 20s and could pull off this look with a feminine button down, cute belt, and some great strappy shoes. Do I want to? I'm fighting so hard to not give in, but I can't help but think: "These women look ultra comfortable in those jeans. They can board flights and walk off and not have to worry about adjusting their tight spandex jeans!"
Many celebrities are bringing on this trend, Katie Holmes in particular. She was wearing the boyfriend jeans shopping, eating, after her dance practice, picking up Suri. Charlize Theron was spotted wearing these jeans, and oddly enough, she made them look so effortless-chic. This is surprising considering that the boyfriend jeans have no shape whatsoever! Rachel Bilson has been seen in them carrying her dog.


I was adamantly against this awful trend until I stumbled upon the Gap Boyfriend Jeans. I am one to buy J Brand, Seven for All Mankind, Citizen, etc so Gap was an unexpected twist to my jean collection.

As soon as I walked into the store they instantly caught my eye. Here were these beautiful jeans hanging on the rack unlike all the other jeans. They were baggier with more room for my restaurant addiction but not too baggy like we were going back to the JNCO days! They had straight legs with rolled cuffs. The blue was a faded blue with a worn-in comfort appeal. They were calling my name, and I responded. Thank goodness I did.

I couldn't find my size and was severely disappointed. Judging from the three pairs left, I felt that these jeans weren't only calling my name, they were calling so many other women as well. The woman at the store told me to find a size down on the jeans because they were loser fitting jeans, obviously like mens' jeans. I did so, and found that they are so great. They are form fitting enough to see my butt and it hugs my thighs, yet loose enough to breathe. I glanced in the mirror and thought, "This is hideous! Why would people want this much whiskering on their jeans?? Wouldn't this accentuate the thighs and hips?" But the more I kept glancing, the more it grew on me. I am annoyed that they have rips and holes in them (part of that destruction process), but I don't think that these jeans would look right without it. I had this notion that jeans were only suppose to be sold on racks when they have passed the flawless and perfection test: I have since then, given that up. These jeans screamed character.They fit like I have owned this pair and have worn it forever!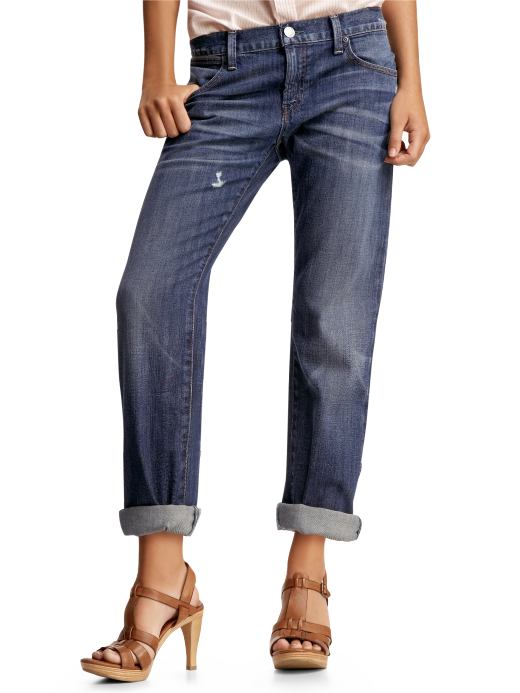 I am now living in these jeans. Forget all those skinny cigarette jeans holed up in my closet. I can bend and move in these and not have to worry about my pot belly stomach after a huge hearty meal. I can relax in these with them rolled up just slightly above my ankle and roll the cuffs down to make a straight leg jean and dress them up. Hell, I can even dress them up with the cuffs rolled up. I have found my ultimate pair of jeans.